Crusty vegan zucchini and cheese pizza recipe
Crusty vegan zucchini and cheese pizza recipe with tomato. Zucchinis are a wonderful vegetable that can be eaten raw, as part of sauces, fried, baked or grilled and vegan cheese, on the other hand, is entirely plant-based. This recipe is about a new healthy, creative and unusual way on how zucchinis can be used.
Make them as the basis for a healthy pizza. Instead of eggs, put chia seeds soaked in water and add turmeric to make the pizza, even more, tastier and healthier. The result will be astonishing.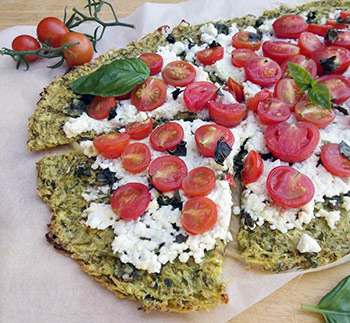 Ingredients:
For the pizza basis:
2 medium-sized zucchini
1 tablespoon of chia seeds
1/2 cup of oatmeal ( 125 gr.)
1 tablespoon of olive oil
1 teaspoon of dry oregano or thyme
1 teaspoon of turmeric
For the pesto sauce:
3 garlic cloves
3 tablespoons minced almonds
3 tablespoons of olive oil (if desired, you can put more)
20-30 leaves of fresh basil or spinach
2 tablespoons of lemon juice
1 teaspoon of salt
For the cheese topping:
5.3 oz (150 g) of vegan gourmet mozzarela
For the cheese spread:
5.3 oz (150 g) of vegan feta cheese
For top layer and decoration:
15-20 cherry tomatoes
little fresh basil leaves
Preparation:
Peel and grind the zucchinis, and leave for a while until they release the water.
Mix a tablespoon of chia seed with 2 tablespoons of water and leave it standing for about 5 minutes until they absorb the water.
Drain the zucchinis so that all the water comes out.
Mix the zucchinis with oatmeal, olive oil, soaked chia seeds, oregano and the turmeric.
Mix freely with all your hands so that you get a compact mass.
Place baking paper on the baking tray, apply a bit of olive oil over, put the mixture evenly over the paper (in a circle, square, ellipse, or as best that suits you). The layer should not be too thick because it will not be well baked.
Place it in the preheated oven to 400 ° F (200 ° C) and bake for about 20-25 minutes, until the edges become dark and crusty.
In the meantime, make the pesto sauce- mix in a blender the garlic, fresh basil or spinach, ground almonds, olive oil, lemon juice, and salt. In a separate small bowl, mix feta cheese. Cut the cherry tomatoes in halves.
Remove the zucchini pizza base from the oven. First, arrange over the crust the pesto sauce and put mozzarela cheese on top, then spread the cheese and finally put the cherry tomatoes and the basil leaves.
Place in the oven for about 10 minutes more.
Remove from the oven, let it cool down a little, cut and serve with your favorite salad.
Related: Grilled Veggie Sandwich Recipe