Yummy vegan bean salad recipe
Beans are a simply delicious, naturally nutritious food and they're the next-highest source of protein after animal-based foods. They're also low in fat, high in fiber and nutrients, and very budget-friendly. This yummy vegan bean salad is very easy to make, it is a meal that can be prepared ahead and served cold. It can be served as a side dish, as a salad to a main course or simply as a light dinner if you are dieting or trying to maintain the weight.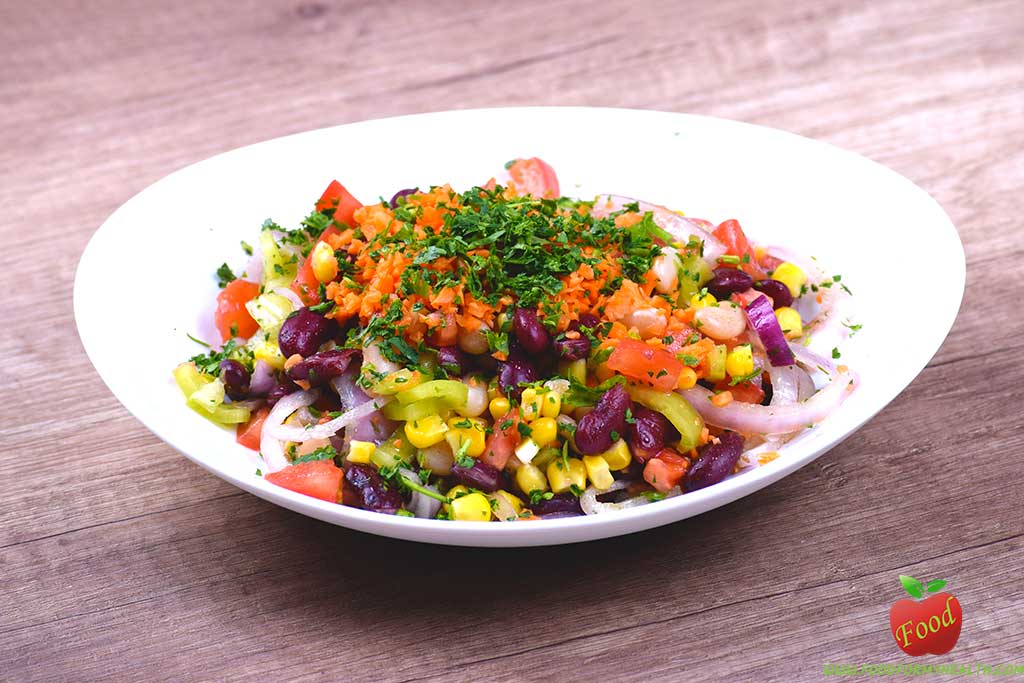 Ingredients:
• 8.5 oz (250gr) frozen corn
• 8.5 oz (250gr) red beans
• 4.5 oz (1300gr) white beans
• 1 red onion
• 1 green pepper
• 1 tomato
• 1 tablespoon parsley
• 1 tablespoon finely chopped carrot
For the dressing:
• 4 tablespoon olive oil
• 2 tablespoon agave syrup
• 3 tablespoon lemon juice
• salt and pepper
Red beans have more delicate flavor and softer texture, the white beans have more firm texture and the combination of these two types of beans is fantastic.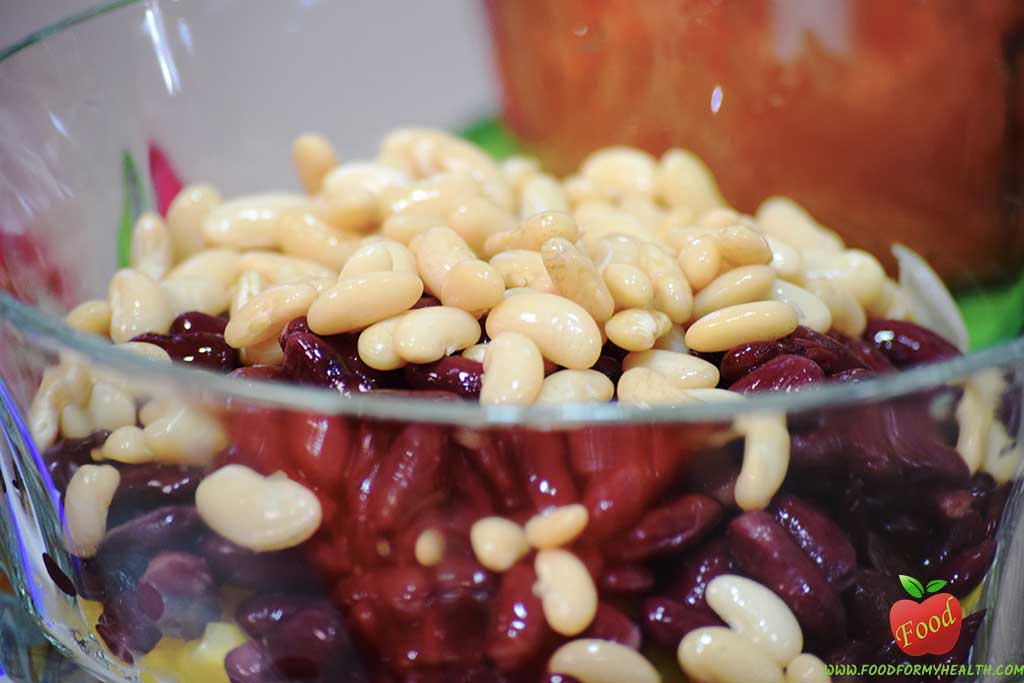 Canned beans can be used if you don`t have time to prepare the dry beans. In that case the beans should be drained and rinsed before adding to the salad.
But I like to prepare my dry beans with the soaking method. This method involves 4 basic steps.
1. First I clean the beans by removing the broken beans and foreign things from the beans.
2. Second I rinse the beans under cold running water.
3. Place the beans in a pot and cover them with water, boil for about 5 min. Remove from the heat, cover and let stand for 1 day (overnight)
4. Drain the beans, rinse with water and add new cool water and the beans are ready to be cooked.
It takes for about a 1 ½ to 2 hours for the beans to be tender cooked it depends on the type of beans on a low to medium heat on the stove, while cooking add 2 tablespoons of olive oil. The soaking method is important because it reduces the gas-producing compounds.
I prepare the beans the day before and put them in the refrigerator to be ready for preparing my salad mix.
Preparation:
1. Boil the frozen corn for 5 min. Drain the water and put in a bigger bowl.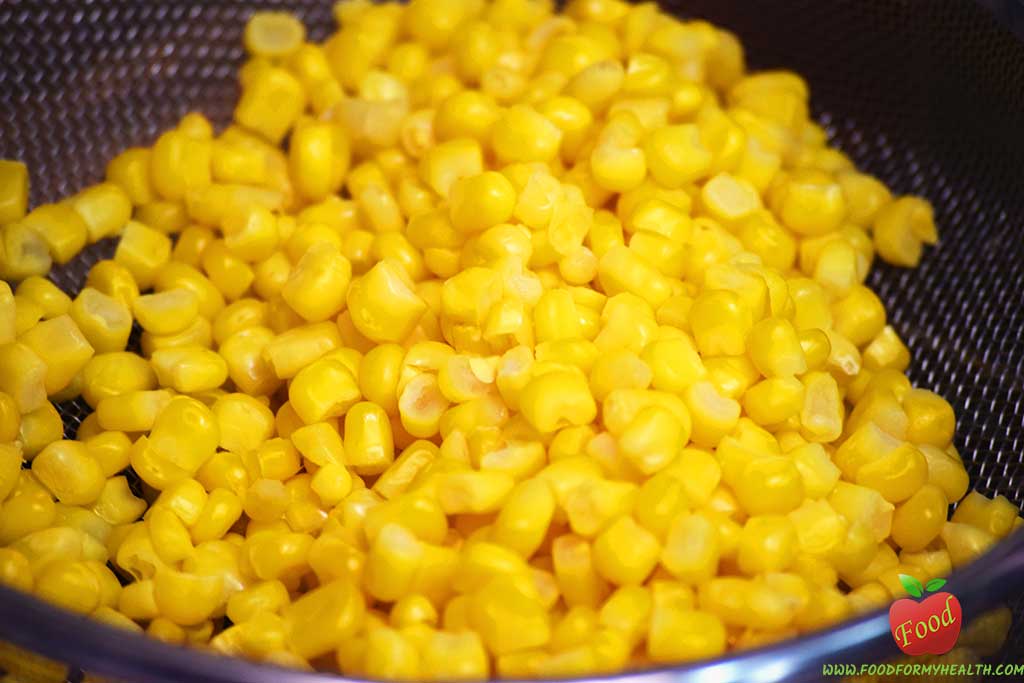 2. Add the boiled white beans and red beans.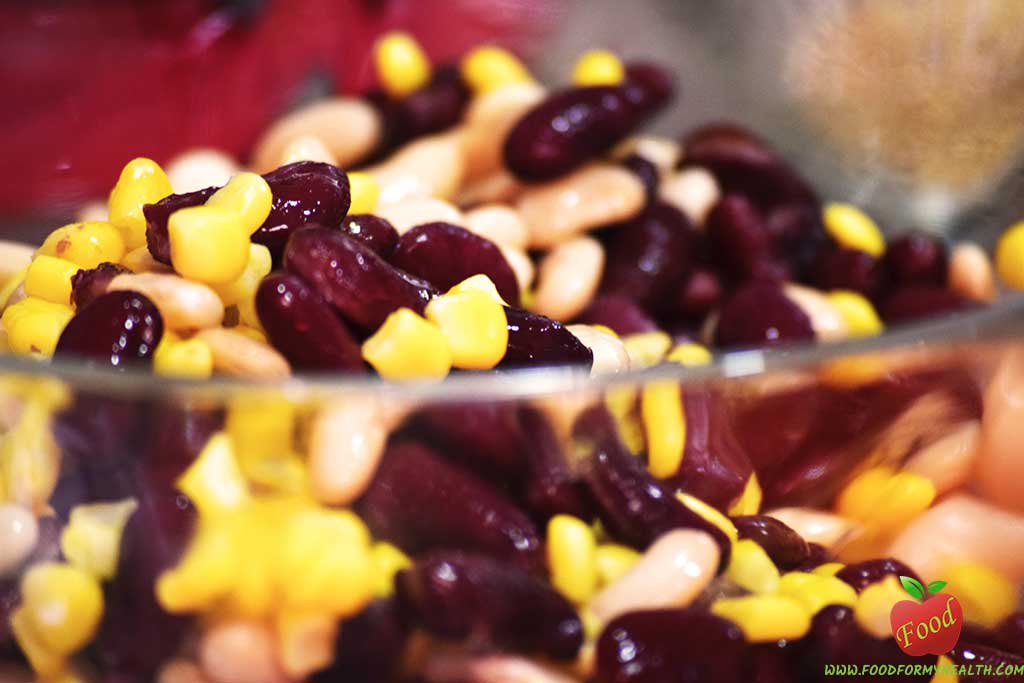 3. Cut the green pepper on smaller slices, the tomato on dices and put in the bowl.
4. Cut the onion in half and then on thin slices add in the salad.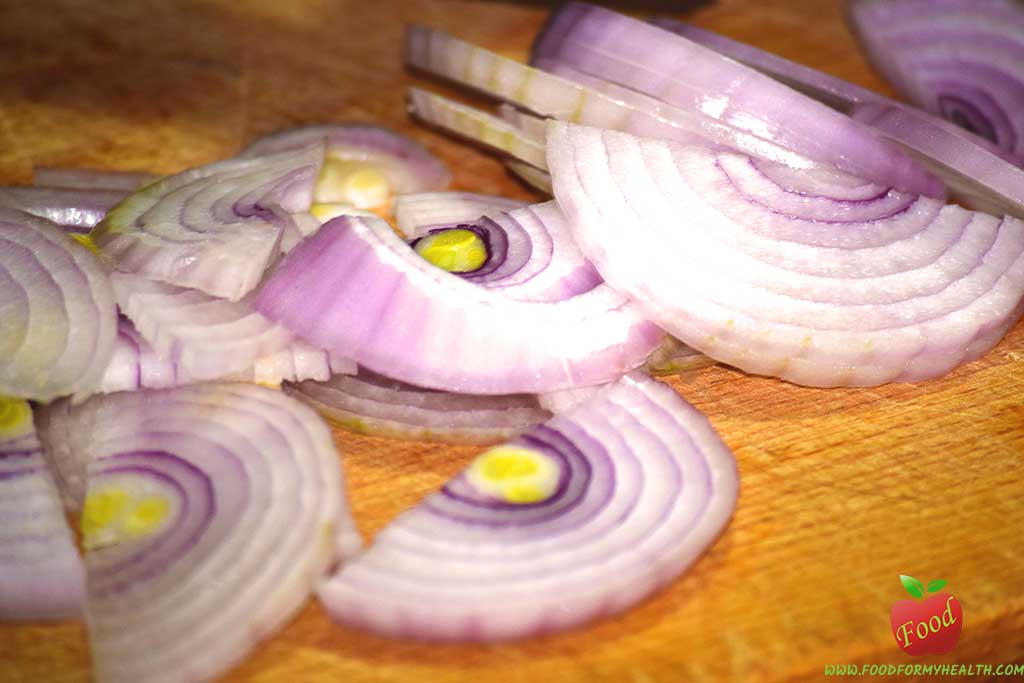 5. Mix in a separate bowl the olive oil, agave syrup, lemon juice salt and pepper by taste. You can adjust the acidity of the mixture by desire.
6. Pour over the salad the mixture with olive oil and lemon, lightly mix and leave to rest for 5 minutes.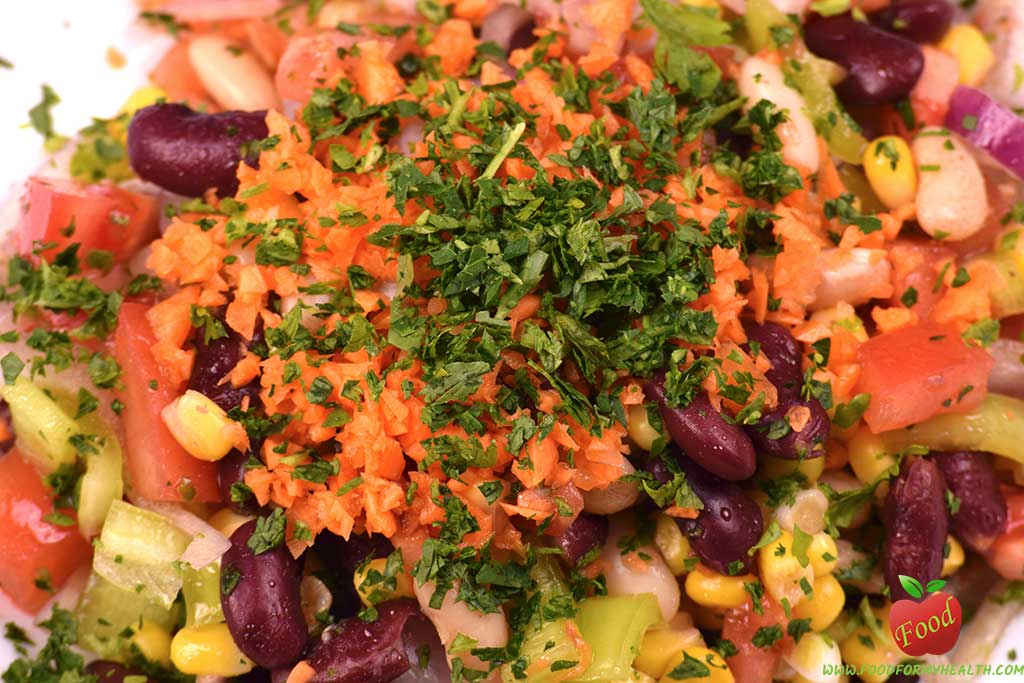 7. Before serving sprinkle over with parsely and chopped carrot.