Coconut energy bars with chocolate dressing
Very delicious coconut and nuts energy bars, sweetened with fresh dates and dark chocolate overflow that perfectly complements the mild taste of coconut. Easy to prepare, easily adaptable and very nutritious and good for us!
Preparation time: 30 '
Quantity:  18-20 pieces
Ingredients:
For the base:
7.5 oz or (200 grams) of cashew or mildly baked hazelnuts or almonds
7.5 oz or (200 grams) of fine-grained coconut flour
6.5 oz or (170 grams) of fresh dates
1.5 oz or (40 grams) of coconut oil (best if cold-pressed coconut oil)
A pinch of salt
Half teaspoon of vanilla powder
water or vegetable "milk", if necessary
For the dressing:
2.5 oz or (40 grams) of dark chocolate (70% of cocoa or as desired)
1 spoon of coconut or other oil by your choice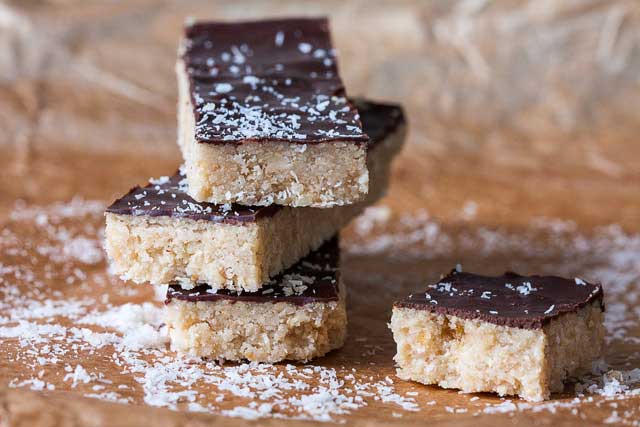 Coconut mixture
In a plate or pan of size 11 x 7 in. or (20×30 cm) or slightly smaller, lightly grease the bottom  with olive oil for cooking, and then cover the bottom of the pan with baking paper. The oil is used to make paper easier to stick to the bottom of the pan.
Into food processors with chopper first insert the nuts, and blend them until they are completely crushed. I used a combination of cashew and mildly baked hazelnuts, but you can only use one type if you want.
Add coconut, pinch of salt and vanilla powder and blend until you get a more or less compact mixture and until the coconut is completely chopped.
Remove seeds from the dates and peel them under water. If it does not matter to you that the mixture remains bright, then don't peal them, it will trample on the chopper. If you use dry dates, dip them first in water and let them stay for 15 minutes.
Add dates and coconut oil to the mixture and stir until the ingredients are completely combined. If necessary, add a spoon of water but do not add too much water, because the bars will be soft.
Transfer the mixture into the mold, spread it evenly.  Put in the fridge until you make a dressing.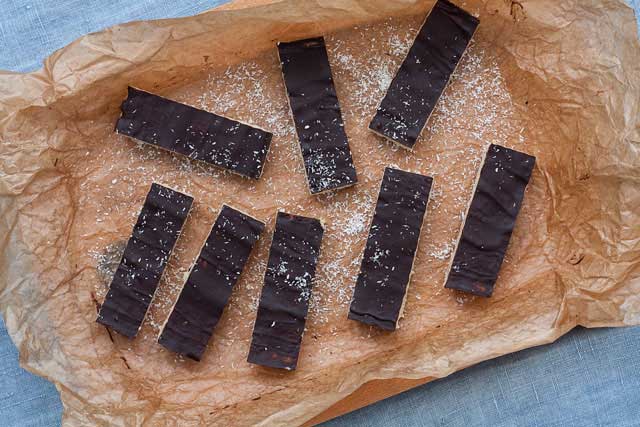 Dressing
The best way to melt the chocolate is to put in the bowl and then insert the bowl into a pan with hot or boiling water. Because it's a small amount of chocolate it will melt very fast. Make sure the water does not come into contact with the chocolate. When the chocolate starts to melt, add the oil and mix occasionally until the chocolate is completely smooth and shiny.
Pour over the mixture and return to the fridge for a few hours. Then cut mold with a sharp knife into a small rectangle pieces, place it in a box and store it in the fridge.
Enjoy!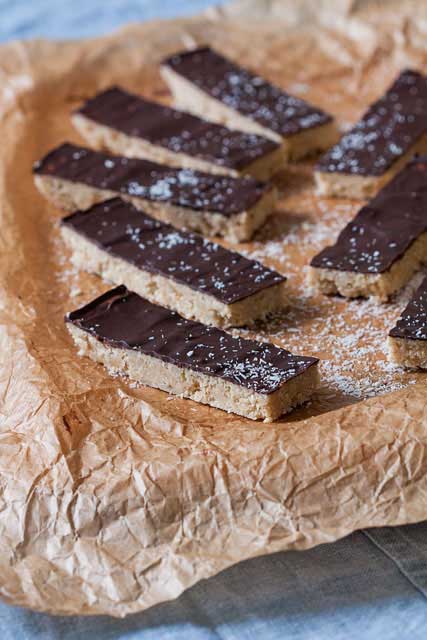 Suggestions
You can use one or more types of nuts. The original recipe was with almond flour and cashew, but because of the simplicity of the recipe, I tried the versions only with cashew, hazelnuts and almonds.  I like the combination that I mentioned in the process, but it's your choice and the discovery of your favorite version.
The experience so far showed me that the dried coconut is quite different from various producers and country of origin, and therefore you need to rely slightly on the feeling when preparing this desert. Namely, these measures are perfect for me, and there is usually no need to add water to make the mixture sticky enough. If your coconut is too dry, it will be necessary and please, pay attention to it – if it is very dry, the tiles will be scattered while you cut them.
Date is a sweetener, but they are also a binder in this case.