5 Tasty vegan recipes you should try
Crude Vegan food has become very popular lately. There are now vegan restaurants popping up all over the place from vegan food in Philly to vegan food in Texas, everywhere is embracing the plant based lifestyle. For some, raw plant nutrition can act as an overly radical diet, but it is still the best nutrition for people who wants to be healthy and vital. So, why not swap that Big Mac from McDonalds for some vegan takeout?
Vegan Blackberry Breakfast Chocolate Cake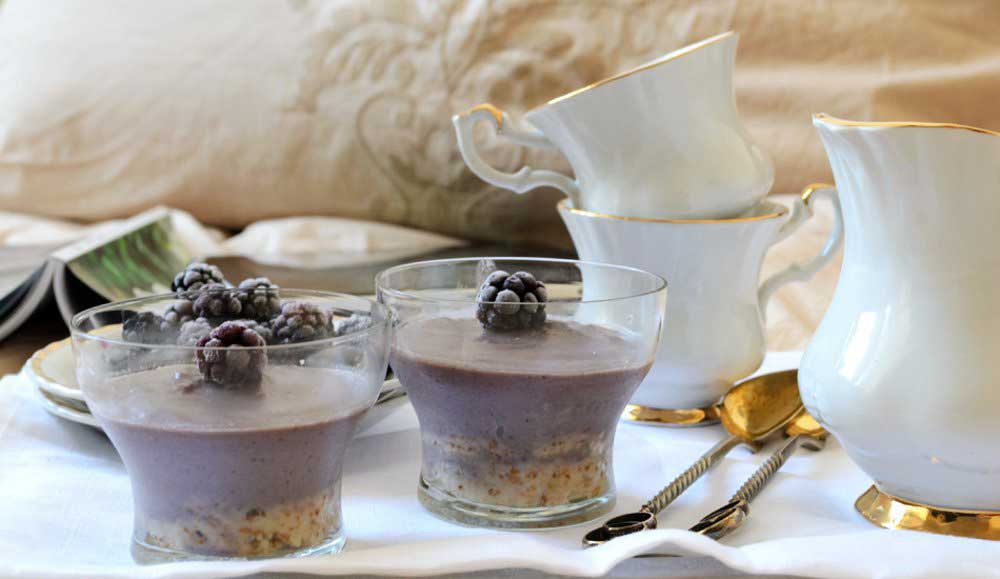 A raw and decadent blackberry chocolate cake that is so healthy, you could eat it for breakfast.
Ingredients:
For the Base:
1 cup almond pulp
3 teaspoons coconut oil
3 teaspoons sweetener
For the Filling:
2 cups raw cashews, soaked at least 1-2 hours
1/3 cup water
1 cup fruits, use different fruits for different cake colors
1 cup maple syrup and agave nectar
1/3 cup melted cacao butter
1/3 cup melted coconut oil
1/2 teaspoon himalayan salt
Preparation:
To Make the Base:
Blend everything together.
Using a spoon place the mixture on the bottom of a cake pan or in small cups.
Press gently with the spoon and leave in the fridge until the filling is ready.
To Make the Filling:
Blend the cashews with the water.
Add the fruits and blend again until a creamy mixture is formed.
Melt the cacao butter and coconut oil and add them in the blender.
Add everything else and blend until everything is smooth and creamy.
Pour over the base and keep in the fridge. It will be best if you leave it there at least for a day to harden perfectly.
If you are using a sweeter fruit, you might want to reduce the sweetener.
Vegan Chocolate Caramel Cake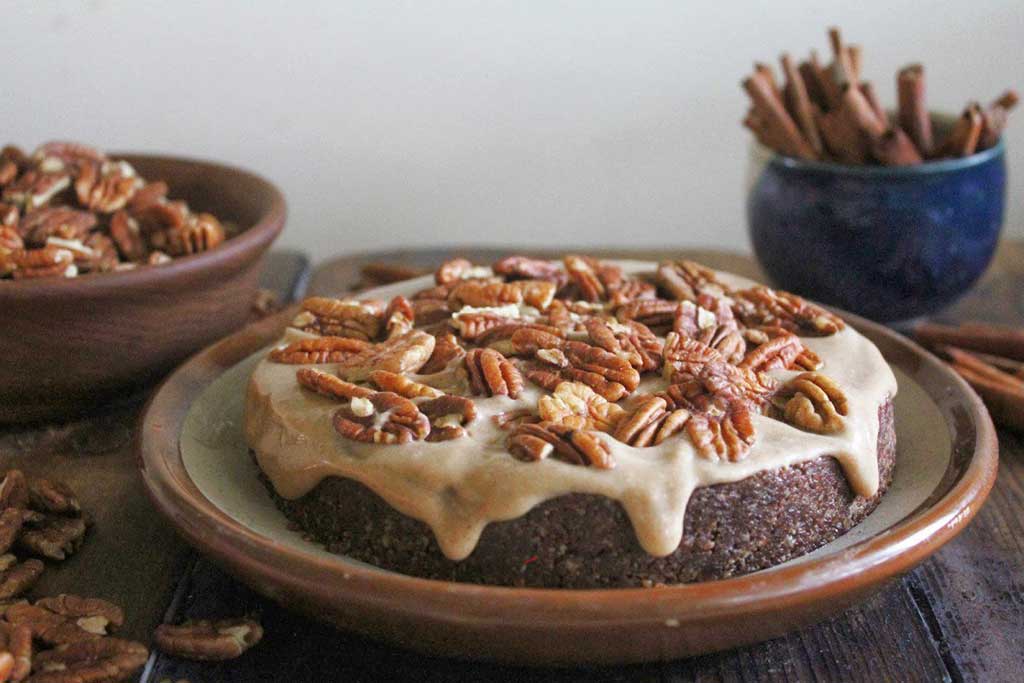 Make it today, tomorrow, for Christmas, a birthday party, whatever. You don't really need a reason. It's that good.
You've got a dense, dark chocolate pecan cake base topped off with a sweet, creamy, spiced caramel sauce and covered in pecans: can you go wrong here? No. Serve this over the holidays to your loved ones and I guarantee they will all be shocked when you tell them it is raw, vegan, gluten-free, and super healthy.
Ingredients:
For the Cake:
1 cup pecans
1 cup dates
1 teaspoon vanilla extract
2 tablespoons cacao powder
For the Caramel:
3/4 cup dates
1 teaspoon vanilla extract
Cinnamon and nutmeg, to taste (I used about 1/2 teaspoon of each)
2 tablespoons melted coconut oil
Water, as needed (I used about 1 cup altogether)
For the Topping:
Handful pecans
Cinnamon
Nutmeg
Preparation:
To make the cake: put the pecans in your food processor and process until they become small crumbs. Add the rest of the ingredients and process until it all begins to stick together. Press into a small spring form pan (mine was about 6 inches), leaving the sides slightly higher than the center so you can later pour in the caramel. Leave in the fridge for a few hours or overnight.
To make the caramel: blend all the ingredients until smooth, adding water as needed to get a caramel consistency. Pour into the center of your cake and spread to the sides so it drizzles down. Top off with pecans or other nuts if you wish. Enjoy with spiced nut milk!
Vegan Enchiladas with Salsa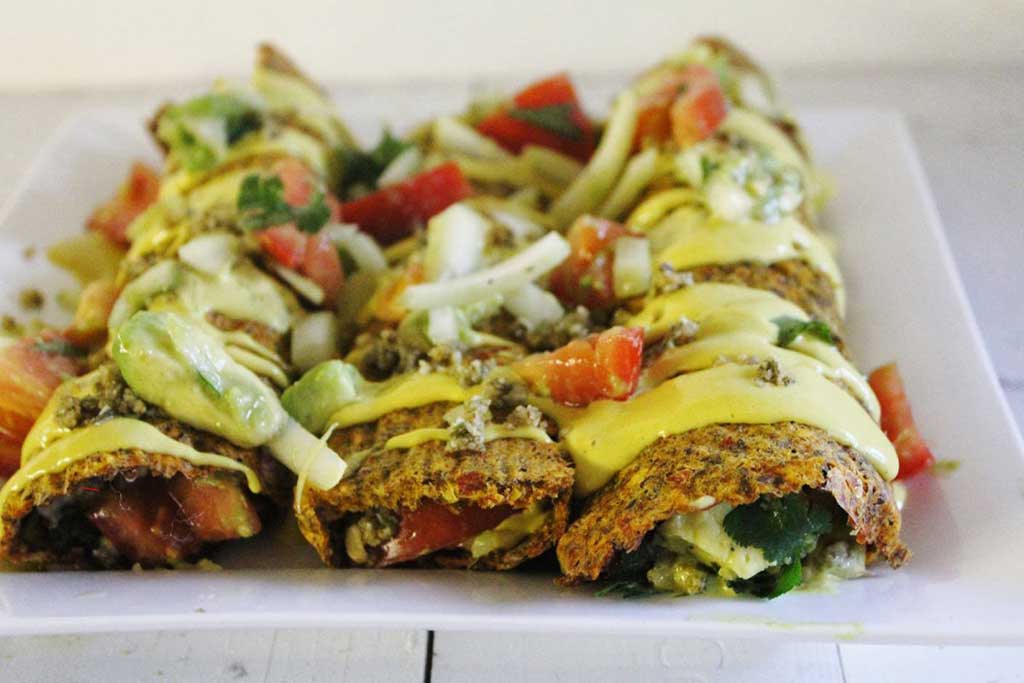 A chunky salsa of avocado, tomato, onion, and cilantro, mixed with a walnut taco meat, spiced with cumin and coriander, all wrapped up in raw tomato-corn tortillas and covered in a creamy cashew cheese sauce. It's quite a simple recipe and doesn't take long to make at all, not including dehydration time for the tortillas.
This Recipe is:
Ingredients:
For the Tortillas:
1/2 cup chopped onion
1 cup corn
1 cup chopped tomatoes
1/4 cup ground flax seeds
Salt and pepper, to taste
For the Cashew Cheese:
1 cup cashews
1/4 cup nutritional yeast
2 tablespoons miso
1/2 teaspoon turmeric
1 garlic clove
3/4 cup water, as needed
Juice from 1/2 lemon
For the Taco Meat:
1/3 cup walnuts
1/3 cup pumpkin seeds
1 tablespoon extra virgin olive oil
Cumin and coriander, to taste
Salt, to taste
For the Salsa:
2 tomatoes
1/2 onion
1 avocado
1/3 cup fresh cilantro
Juice from 1/2 lemon
Salt and pepper, to taste
Preparation:
To Make the Tortillas:
Put the onion, corn and tomato in your food processor and pulse until it becomes all mushy.
Add the flax seeds and salt and pepper and process until it thickens up.
Spread this mixture evenly into 3 large circles on dehydrator sheets and dehydrate for 1 few hours or until they are pliable.
Alternatively, you can spread the mixture on parchment paper-lined baking pans and put them in the oven at the lowest temperature.
To Make the Cheese:
Blend all the ingredients together until smooth and creamy.
Pour into a bowl and set aside.
To Make the Taco Meat:
Pulse all the ingredients in your food processor until it forms a crumbly mixture.
Put in a bowl and set aside.
To Make the Salsa:
Chop up the produce, throw it in a bowl
Season it with the lemon juice and salt and pepper.
To Assemble:
Fill up your tortillas with salsa, nut meat and a little bit of cheese
Then roll them up and cover them all with more cheese sauce and the remains of your other fillings.
Raw Zucchini Pasta with Creamy Avocado-Cucumber Sauce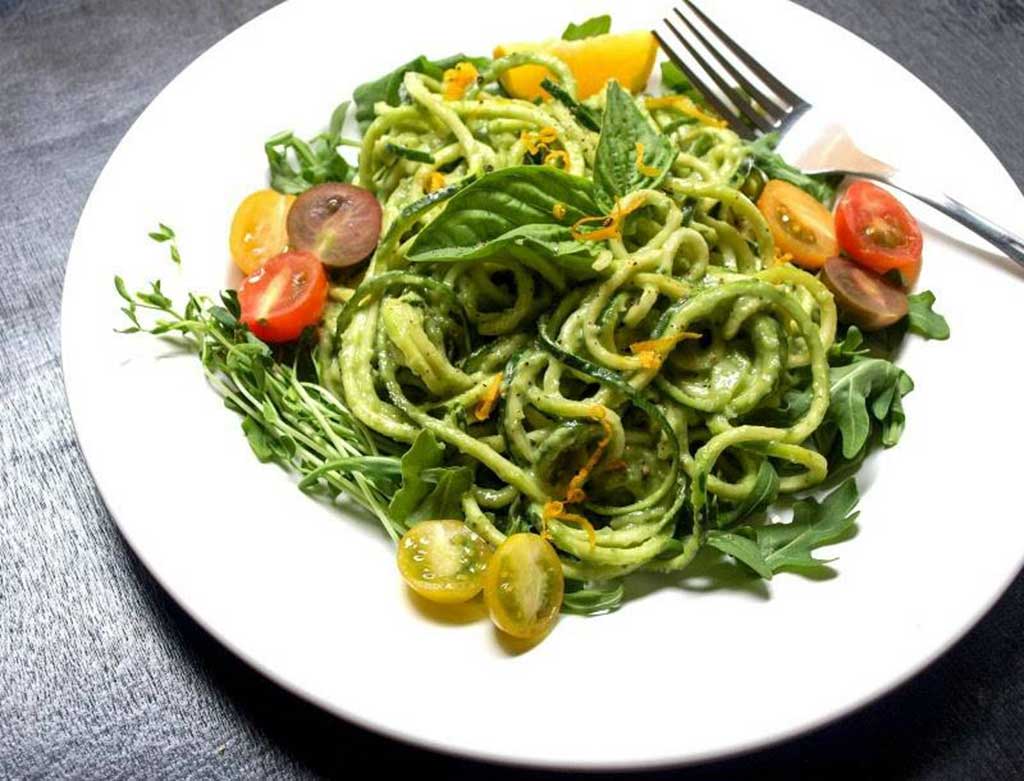 Raw pasta dishes will leave you feeling so refreshed and at your best; they are perfect for the warm summer months.
Feel free to omit the cucumber in this recipe and add an extra avocado if you like for variations (you may like to add a couple tablespoons of extra virgin olive oil if you do). You can even add some arugula to the puree instead of using basil. Lots of ways to change it up and keep it fresh!
You could also put this sauce on any pasta of choice. But zucchini noodles are a great way to eat it…hands down…so refreshing and perfect!
This Recipe is:
Ingredients:
Zucchini Pasta
1 large zucchini (1 per person)
grape, cherry or mini heirloom tomatoes, halved
jalapeno, thinly sliced and seeds removed (optional)
arugula
pea shoots (optional)
zest of one meyer lemon or regular lemon
Avocado-Cucumber Puree
1 cucumber, peeled and sliced thick
a few large leaves of basil (optional)
1 meyer lemon or regular lemon, juice of
2 garlic cloves
1/4 teaspoon white pepper or black pepper to taste
salt to taste
Preparation:
Prepare your zucchini noodles julienne style or spiralized. Or alternately, cook your pasta of choice, about 8 ounces.
For the puree, place all ingredients into a food processor/blender and process until creamy.
Taste for flavor adding anything extra you might like.
Toss zucchini pasta with avocado-cucumber puree and a handful of arugula.
Serve with tomatoes, peas shoots, jalapenos, lemon zest, lemon wedges and fresh cracked pepper.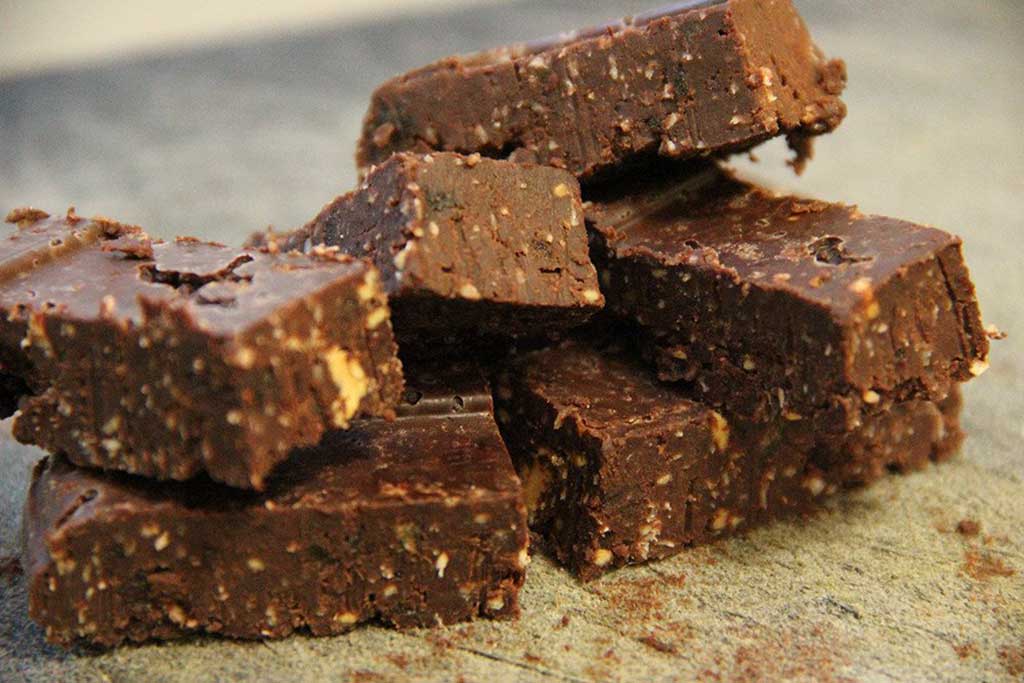 This recipe is not only delicious and decadent but it's also good for you and super simple! It only takes five minutes to prepare and you only need five ingredients!
Ingredients:
1 cup coconut oil
1 cup unsalted crunchy peanut butter
2 cups raw cacao
1 cup dates (pitted)
A pinch of unrefined sea salt
Preparation:
Soak your dates in hot water for about 20 minutes to make them soft and sticky.
If your coconut oil is solid, put it in a jar and place the jar in hot water to melt your oil.
Place all your ingredients, except the peanut butter, in your high-speed blender and blend until soft and well combined.
Add the peanut butter at the end to keep the crunch.
Spread evenly in a tin or container.
Place in the refrigerator for about one hour.