Fullstar All-in-1 Vegetable Chopper and Mandoline Slicer Spiralizer
GREATEST FUNCTIONALITY ON THE MARKET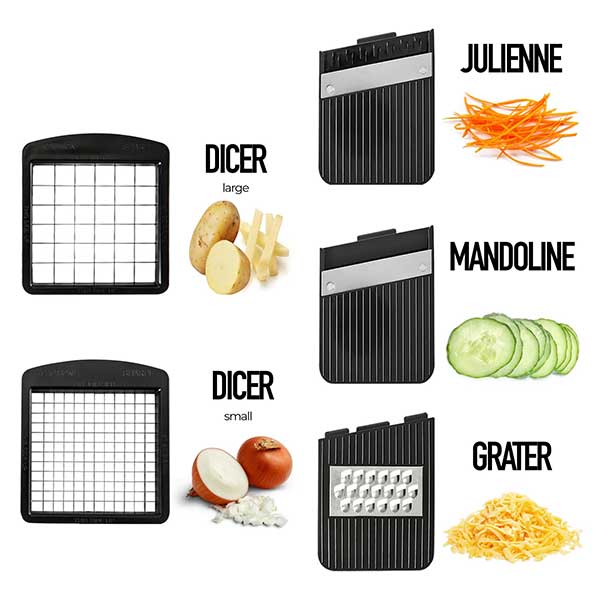 5 interchangeable blades means this kitchen gadget meets all of your slicing, grating and chopping needs. Choose the perfect thickness of your sliced vegetables with the easy-to-use adjuster dial and select the ideal size for your chopped vegetables by simply changing the inserts.
BONUS HANDHELD SPIRALIZER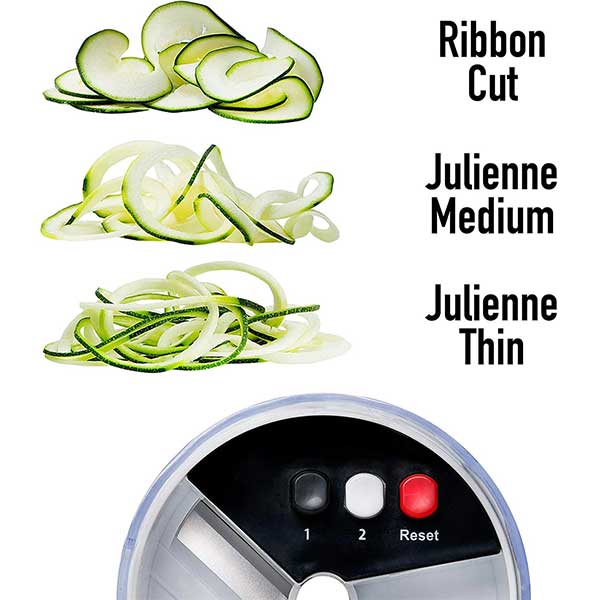 Compact and easy to use, the Fullstar mandoline slicer comes with a BONUS 3 in 1 adjustable spiralizer. Unlike large units this kitchen gadget is easy to store and a breeze to clean as it is dishwasher-safe.
KEEPING YOU AND YOUR FAMILY SAFE
We know our stainless steel blades are high quality and razor sharp. Our set therefore comes with a fingerguard and protective glove to keep you safe whilst you are using the spiral slicer and a cleaning brush and blade organizer for when you aren't. FDA and LFGB standard approved, the ABS plastic is nontoxic and BPA Free guaranteeing healthy meals for your family.
NO MESS AND NO SLIPS
Our catch tray makes cooking so much more convenient, no mess and no messing around! It makes cleaning effortless and our non-slip base also makes your slicing, chopping and grating that much easier. Plus the slicer chopper is entirely dishwasher-safe (top rack) .
What's in the box
Removable Collecting Tray
3x Slice Blades – Mandoline, Julienne & Grater
2x Dicer Blades – Medium and Fine
Adjustable Spiralizer with 3x Blade Settings
Cleaning Brush
Cleaning Scraper
Cut Resistant Gloves & Finger Guard
Blade Storage Organizer Kitchen Gadget
Cut-resistant Safety Gloves
All-in-1 Vegetable Chopper and Mandoline Slicer Spiralizer PARTS: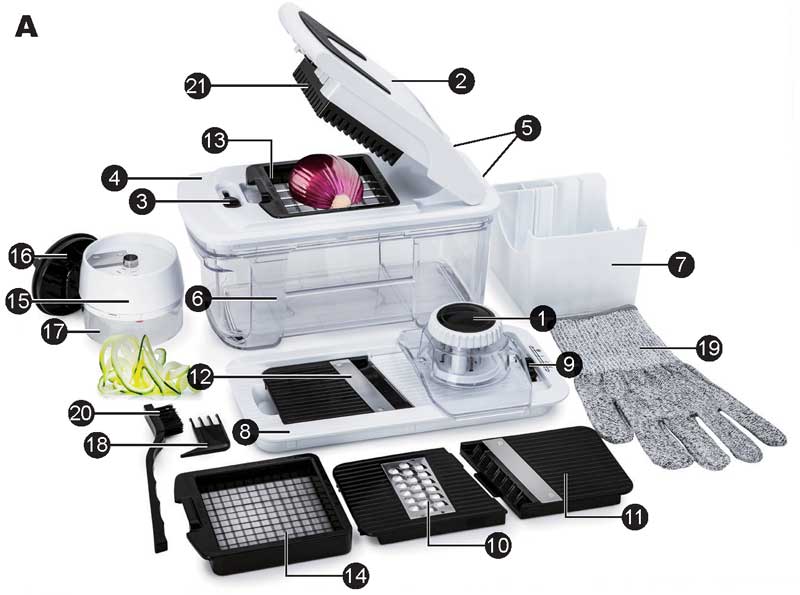 This compact chopper measures just 7.2 x 5.5 x 14.6 inches. It can be fully disassembled for easy cleaning on the top shelf of your dishwasher.
1. Food guard
2. Pusher
3. Blade lock button
4. Chopper base
5. Top rack
6. Collecting container
7. Blades housing
8. Mandoline base
9.Rotating dial for the thickness
10. Coarse grater blade
11. Julienne slice blade
12. Slicing blade
13. Medium dicer
14. Fine dicer
15. Spirali slicer lid
16. Spiralizer spiked grip
17. Transparent cylinder for spiral slicer
18. Cleaning scraper
19. Cut resistant glove
20. Dicer cleaning brush
21.Pusher insert
READ THE MANUAL CAREFULLY – Please read the instruction manual provided with the Fullstar food chopper closely before use.
Download All-in-1 Vegetable Chopper and Mandoline Slicer Spiralizer User manual here…