Fullstar 9-in-1 Deluxe Vegetable Chopper
Best functionality on the market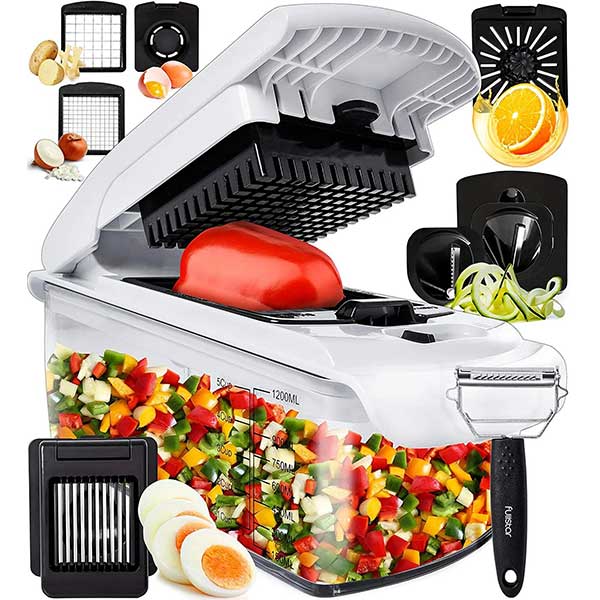 Everything you need in this multifunctional all in one kitchen gadget. 7 easy to change inserts including two different sized chopper blades and two spiralizer inserts give you the option of broad ribbons or thin spirals.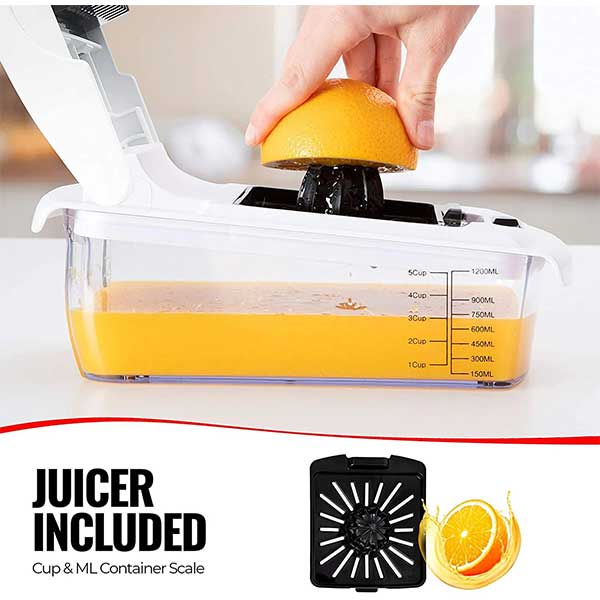 Bonus handheld peeler, juicer, egg separator and slicer – juice your fresh lemons, separate your yolks from your egg whites and slice your hard-boiled eggs with ease with this all in one food choppers and dicers. Plus this set comes with a Bonus peeler that can both peel and julienne your veg.
Quality materials and easy store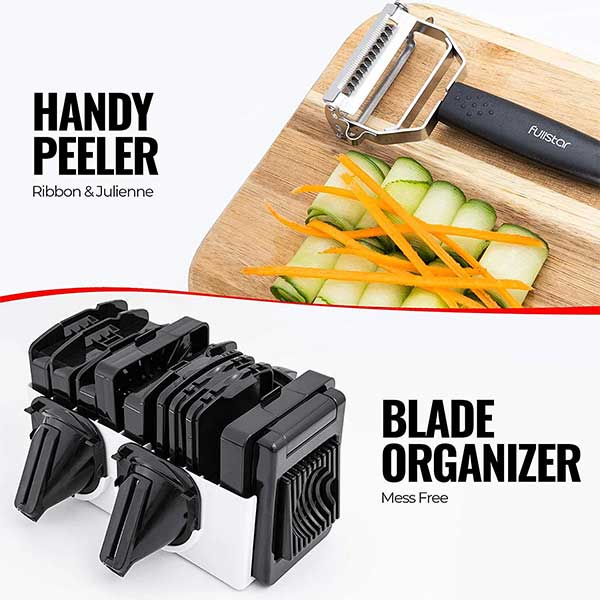 Multifunctional chopper dicer comes with a space-saving blade organizer, perfect for saving space in the kitchen. The abs plastic is nontoxic and BPA free guaranteeing healthy meals for your family.
No mess and slips – our catch tray makes cooking so much more convenient, no mess and no messing around! It makes cleaning effortless and our non-slip base also makes your chopping that much easier.
Plus the entire chopper is dishwasher-safe (top rack) .
9-in-1 Deluxe Vegetable Chopper PARTS: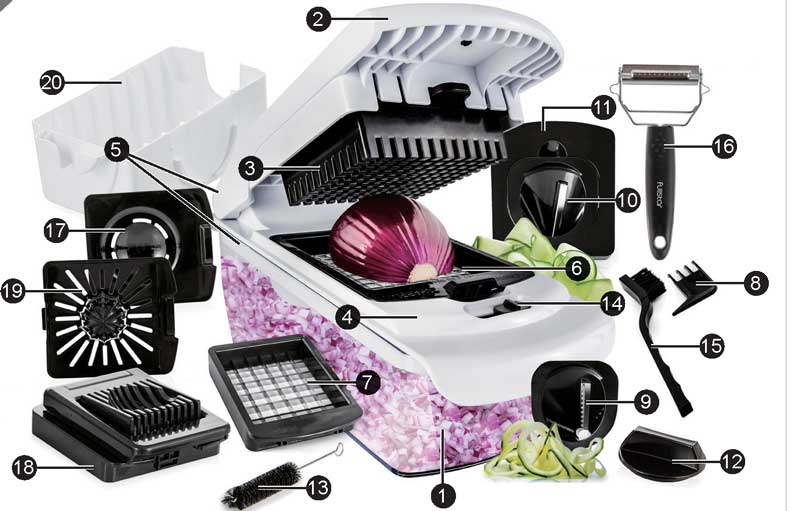 This compact chopper measures just 10.63"L x 4.72"H x 4.48"W. It can be fully disassembled for easy cleaning on the top shelf of your dishwasher.
1. Collecting container
2. Pusher
3. Pusher insert
4. Chopper and spiralizer base
5. Top rack consists of the pusher and chopper base
6. Fine Dicer
7. Medium Dicer
8. Cleaning scraper
9. Spiralizing julienne blade insert
10. Ribbon blade insert
11. Spiralizer blade holder
12. Spiralizer spiked grip
13. Spiralizer cleaning brush
14. Blade lock button
15. Dicer cleaning brush
16. Peeler
17. Egg separator
18. Egg slicer
19. Juicer
20. Blades housing
READ THE MANUAL CAREFULLY – Please read the instruction manual provided with the Fullstar food chopper closely before use.
Download 9-in-1 Deluxe Vegetable Chopper User manual here…