CHRISTMAS COOKIES RECIPES
This is a time when kitchens smell of fresh baked cookies and other goodies, which are usually prepared in abundance. Cakes and holidays have always been and always will be an ideal combination. We are recommending some recipes for this magical time of the year to prepare for your loved ones and share these beautiful moments at the table with tasteful food.
Christmas jam cookies
Gentle and delicious cookies with jam are the perfect accompaniment to a cup of hot drinks.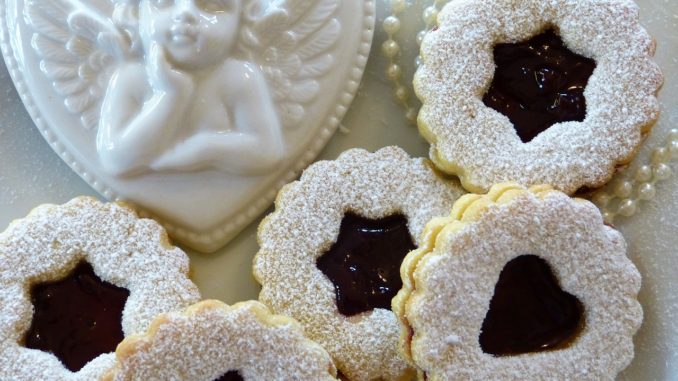 Ingredients:
(200 grams or 7 oz)  softened butter
(100 grams or 3.5 oz) of sugar
1 large egg
1 egg yolk
1 teaspoon vanilla extract
grated zest of one lemon
4 tablespoons milk
(80 grams or 3 oz) ground almonds
(300-400 grams or 10.5-14  oz) of flour
1 pinch of salt
(220 grams or 7.6 oz)  of jam (desired flavor)
powdered sugar for decoration
Note: Instead of ground almonds may be used ground hazelnuts or walnuts.
Preparation:
Preparation time 85min; Servings for 10 persons (about 40 cookies)
First, prepare the dough. In a bowl sift flour and mix it with salt. In another bowl, with an electric mixer stir softened butter and sugar, then stir in egg yolk, vanilla extract, milk and lemon peel. Finally, add the ground almonds and flour. The smooth dough wrap in transparent foil and put in the fridge for 30 to 60 minutes
Preheat the oven to (360 degrees Fahrenheit or 180 degrees Celsius). Dough on lightly floured work surface roll out about (3 mm or 0.11 inch) thick. With the help of molds cut the cookies in circles (1/2 of the dough) and the other half of the dough in the middle of the circle cut out various shapes – heart, star, flower, etc. Bake the cookies on baking paper for 12 to 15 min, the color should stay slightly brown.
Cookies without holes brush with jam and join to biscuits with a hole and sprinkle with powdered sugar. Prepared cakes stacked on a plate or tray and serve.
Oat spicy cookies
If you like spice, you will definitely like these biscuits, if you love the holiday spices, even more so. We added it all the traditional Christmas spices: cinnamon, vanilla, nutmeg, cloves and ginger.You can enjoy them with a glass of warm or cold milk.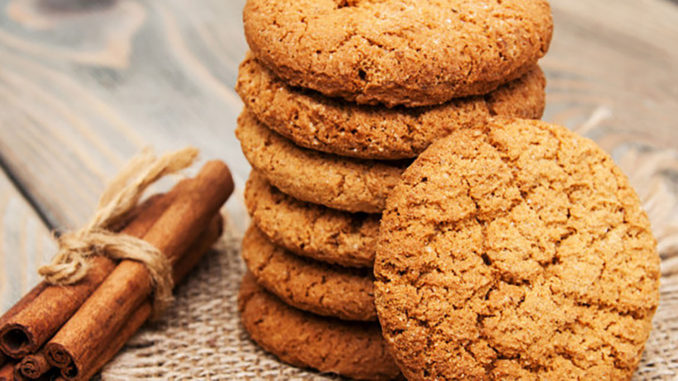 Ingredients:
(150 grams or 5.3 oz)  sifted flour
2 teaspoons ground cinnamon
5 teaspoon ground cloves
5 teaspoons minced ginger
5 teaspoon ground nutmeg
1 pinch of salt
5 tsp baking powder
(230 grams or 8.1 oz) softened butter
1 teaspoon vanilla extract
(100 grams or 3.5 oz) of granulated sugar
(120 grams or 4.2 oz) brown sugar
2 large eggs
(270 grams or 9.5 oz) of instant oatmeal
Preparation:
Preparation time 45min; Servings for 10 persons (about 40 cookies)
In a bowl sift flour, baking powder, spices and salt and mix ingredients.
In another bowl, use an electric mixer and mix the softened butter. Add vanilla extract and the two types of sugar and gradually, one after the other, mix the eggs. Decrease the speed of the mixer and in the egg-butter mixture slowly stir in the mixture of dry ingredients. At the very end with spoon stir in oatmeal. The dough store in refrigerator for 1 hour.
Preheat the oven to (360 degrees Fahrenheit or 180 degrees Celsius) and bake them for 10-12 minutes. Put on the pan baking paper and with spoon lay the piles of dough (about 2 tablespoons of dough on the mound). Ensure that the cookies are placed with a space between, because cookies they rise during the baking. They are baked when at the edges are brown and at the center are soft.
Save
Save