4 Delicious recipes with tomatoes
During the hot summer days enjoy the fresh tomato that protect the skin, stimulate the work of the pancreas, prevents thrombosis and heart attacks, and slows down aging. This is why they're so important to consume. Tomatoes can be picked up from the supermarket, or they can be grown yourself. By setting up a greenhouse in your backyard, you could consider planting some tomato seeds and growing some yourself. By using some shrink wrap from somewhere like Pro-Tect Plastics, tomatoes will be able to grow much better and with less water. Hopefully, this will help more gardeners to create beautiful tomatoes that can then be made into numerous meals.
WHY SHOULD WE CONSUME TOMATOES?
This delicious and juicy vegetable is excellent in combating cardiovascular disease, strengthens immunity and the body, and protects against infections and colds.
The red color of tomatoes comes from lycopene, which is actually a carotenoid with special antioxidant properties, with a very beneficial effect on the skin.
It contains a few calories, so it is recommended for people with excess weight.
Fresh tomato juice can prevent thrombosis, especially in people with type 2 diabetes.
It lowers the level of bad cholesterol, and therefore reduces the risk of its deposition on blood vessels.
Stimulates the formation of red blood cells and the proper functioning of the pancreas, which is why it is especially useful for people with diabetes.
4 EXCELLENT RECIPES IDEAS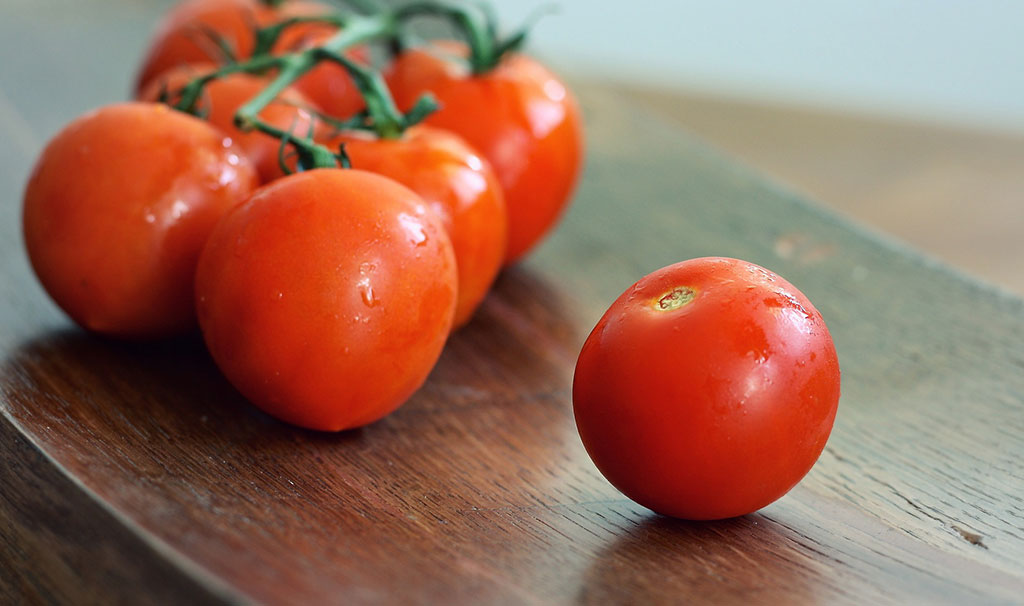 The indispensable tomato juice
Preparation:
Wash 6.6lbs (3 kg) of tomatoes, cut it into pieces and grind it.
Put it in a deeper pot, and then add 2 tablespoons of sugar and 1 teaspoon of salt. Cook it in on a stove on a low temperature with often stirring. When it starts boiling, lower the temperature again and cook for about 5 minutes with constant stirring. Let it cool down, and then pour the hot juice into sterilized glass bottles, close it well and let it cool down. Keep it in a cool place.
Tomato stuffed with fish
Ingredients:
4 tomatoes
For the stuffing:
3.5 oz (100 g) cheese,
1 potato, 1.8 oz (50 g) mayonnaise,
olive oil, 7 oz (200 g) can tuna fish (canned in water),
1 head of red onion,
1 tbsp finely chopped onion, salt, and pepper to desired taste
Preparation:
Wash the tomato and cut the upper part of it, which you will use it as the lid.
Then scoop out the seeds and leave to drain. Cook the potatoes. Mash the fish, chop the onion and add all other ingredients for the stuffing. If you have a blender, even better, simply put all the ingredients into the blender and combine them into a compact cream. Fill the tomatoes with this cream, and cover the top of the tomatoes, and bake in a preheated oven at 400º F (200ºC), about 10 minutes.
Nutritional value per serving of 2.8 oz (80 g): 155 calories, 11 g protein, 6 g fat, 10 g carbohydrates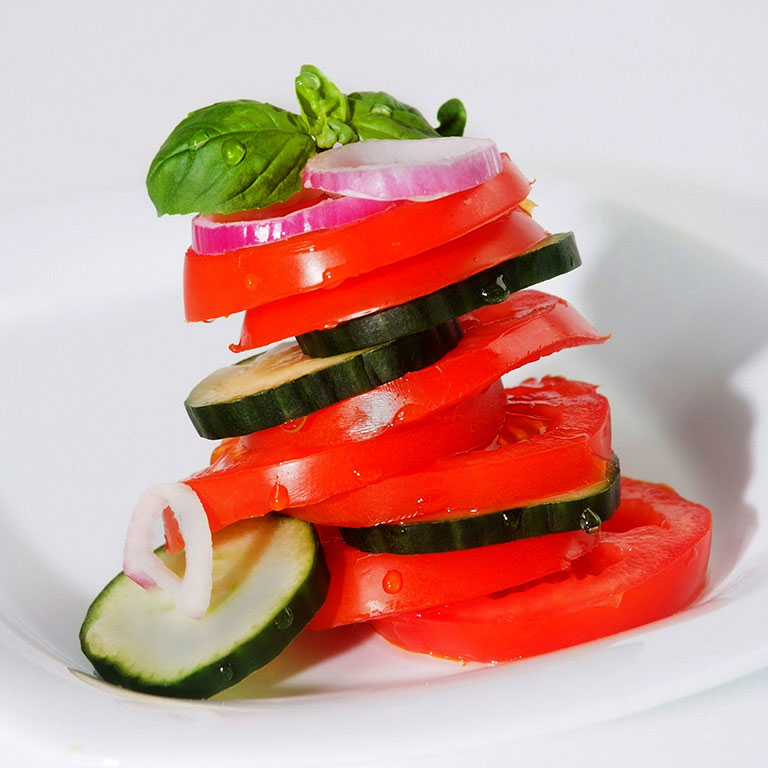 Tomatoes with cream cheese and bean sprouts
Ingredients:
1.1lbs (500 g) of fresh tomatoes,
1 small onion,
1 tbsp of soft wheat flour,
1 tbsp of olive oil,
a little salt, pepper, fresh parsley finely chopped,
1.8 oz (50 g) of integral rice,
1.8 oz (50 g) cream cheese,
bean sprouts, chives.
Preparation:
Peel the tomatoes and onions and cut into small cubes. Braise the onion, and be careful not to burn it (otherwise the taste will be bitter). Add a spoon of flour, and mix all together.
Put the cut tomatoes, stir it all together, and then pour the water to the desired quantity (about 2 cups – 0.5 I). Leave it to boil slowly on a low heat, while the tomatoes fall apart completely. If necessary, add water. After about 20 minutes of cooking, put in the rice, and leave it to boil until the rice is cooked. At the end, put in the finely chopped parsley and the spices by the desired taste.
Sprinkle the tomatoes with cream cheese, with finely chopped chives, and bean sprouts.
Nutritional value per serving of 5.3 oz (150 g): 155 calories, 5 g protein, 4 g fat, 10 g carbohydrates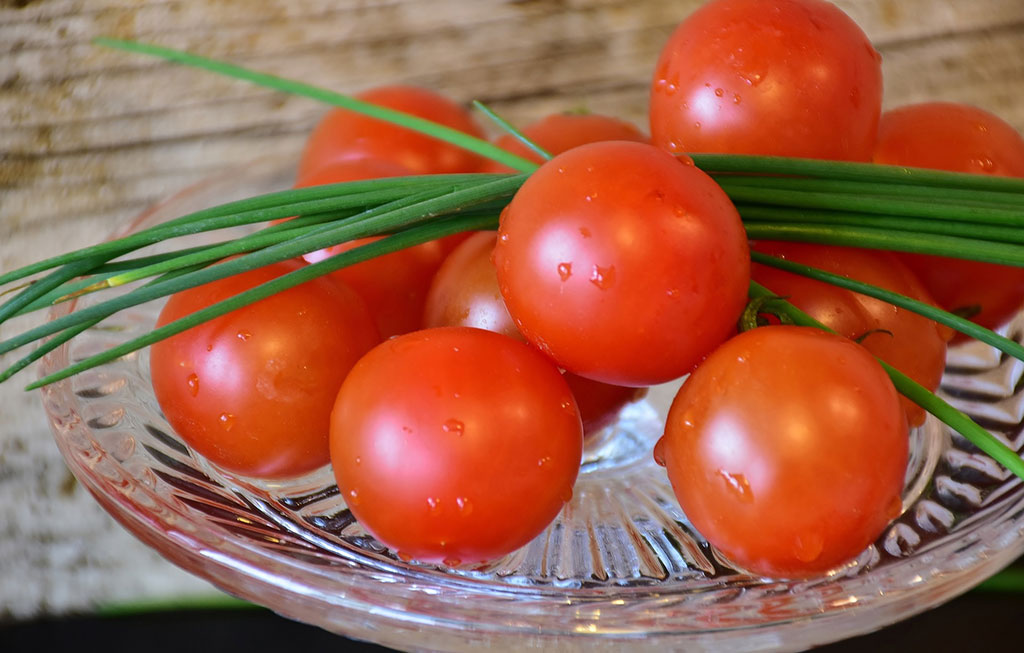 Baked tomatoes with rice
Ingredients:
4 tomatoes,
3.5 oz (100 g) cream cheese,
7 oz (200 g) of sour cream,
3.5 oz (100 g) cooked basmati rice, celery,
8 pieces of chives,
little olive oil
Preparation:
Cook rice so that it is half-boiled, drain it and set aside. Wash the tomato and cut it in half. Of cream cheese, sour cream, celery, and chives make a creamy dressing. Preheat the oven to 400º F (200ºC). Grease the baking pan with oil, put the halves of tomatoes, arrange between tomatoes the basmati rice and pour over the dressing of cream cheese and sour cream. Sprinkle a little more with chopped chives. Put in the oven and bake until it gets a golden color (about 15 minutes).
Nutritional value per portion of 3.5 oz (100 g): 190 calories, 6 g protein, 5 g fat, 10.2 g carbohydrates
Related: Tomatoes Salad Recipe